The planet-metallicity correlation for super-Earths and sub-Neptunes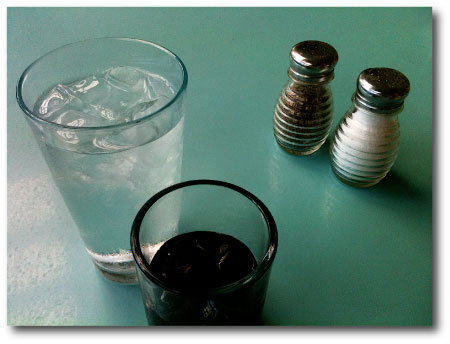 A well-known theorem states that there's no such thing as a free lunch. A corollary is that interesting discoveries tend to be made at the ~3-4 sigma level of confidence, and this is especially true if the supporting data is drawn from the public domain. If a signal is stronger than 4-sigma, then someone else has invariably pointed it out. If it's weaker than 3-sigma, it's probably wishful thinking.
With those rules of thumb in mind, I'm very optimistic that Kevin Schlaufman has obtained a genuinely important insight into how the planet formation process works: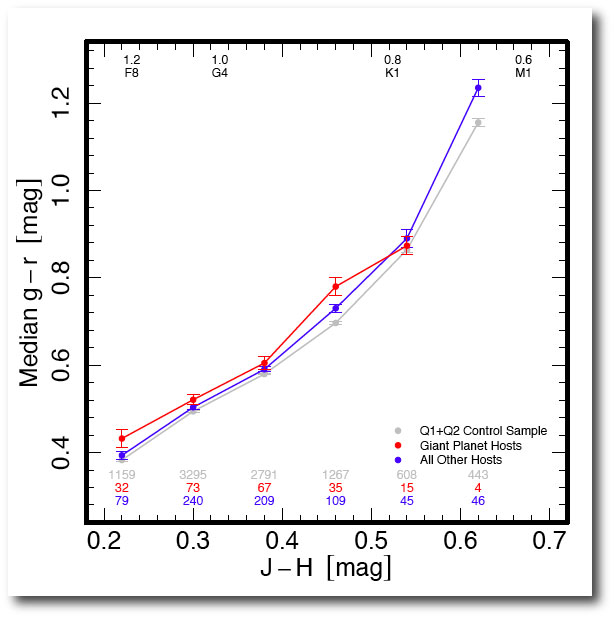 The plot shown is above is from a paper that Kevin and I submitted soon after the 1,235 Kepler planet candidates were announced last Spring. After going through review, it was accepted by the ApJ, and it was posted to astro-ph last week.
I wrote about the underlying details of the plot in this post from several months ago. The basic idea is as follows: The 997 Kepler planet candidate host stars are divided up into two groups — (i) the less numerous group of stars that host a candidate with R_pl>5 Earth radii (red), and (ii) the more numerous group of stars that only host a planet (or planets) with R_pl<5 Earth radii (blue). The two groups of stars, along with a control sample of 10,000 non-candidate-bearing dwarf stars from the Kepler field (gray), are plotted in a color-color diagram (and then binned to create the diagram above):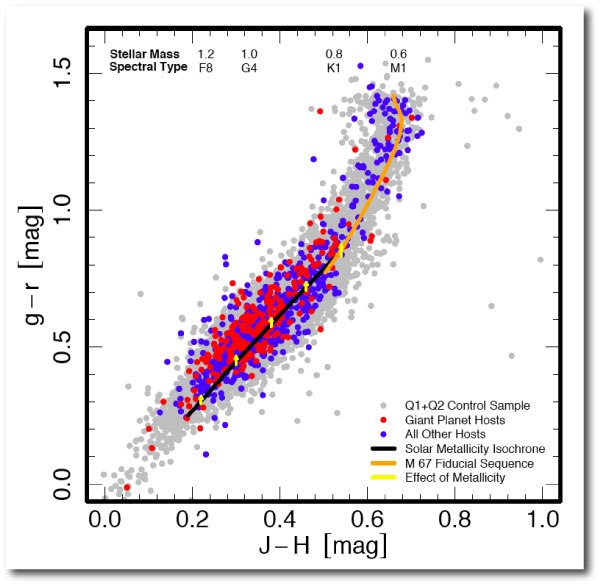 The y-axis corresponds to the magnitude difference between a given star's green (Sloane g filter) and red (Sloane r filter) colors. The x-axis charts the differences between the 2Mass J and H infrared colors for each star. Metal-rich stars tend to have redder optical colors than metal-poor stars, whereas the J-H index sorts the stars in terms of their overall temperatures (with cool stars to the right and warm stars to the left of the plot). Metal-rich stars thus lie along the upper part of the main-Sequence locus.
The binned version of the plot provides a confirmation of several trends that were already very well known. First, among host stars with masses similar to the Sun that harbor giant planets, there's a strong preference for metal-rich stars. This is the classic planet-stellar metallicity effect. Second, among low-mass stars, there's a dearth of giant planet candidates. This is the known giant planet-stellar mass effect. Finally, among the solar mass stars that host low-mass planets, there's no discernible metallicity correlation.
The new result pertains to low-mass planets orbiting low-mass stars. The diagram shows that for this subset, there's strong evidence for a metallicity correlation — At masses less than ~0.8 solar masses, higher metallicity stars are more likely to host low-mass planets. We take this as direct evidence regarding the overall bulk efficiency of planet formation for planets that aren't required to bulk up via rapid gas accretion. Take a 0.7 solar mass with twice the Sun's metal content and a typical 0.02 solar mass disk. The entire planet-forming disk contains about 150 Earth-masses worth of stuff heavier than hydrogen and helium. Kevin's result is effectively saying that a good fraction of the time, a good fraction of this total burden of metals winds up in planets.
We had to be careful. There are a lot of systematic "gotchas" that can potentially throw a wrench into the exciting big-picture conclusions, and so much of the paper is devoted to considering potential show stoppers in turn. I think that the result is robust, and that it will hold up as the planet catalog continues to grow.