A quarter-million dollar world

Image Source.
The Kepler Candidates were just announced! My immediate sensation at seeing a copy of the associated paper is not unlike those cheesy contests where you're allowed 60 seconds in a grocery store to grab whatever you can grab for free.
The most remarkable and unexpected development seems to be contained in Table 6 of the paper. Here, it looks as if candidates identified during the first four months of data collection have had their confidence levels increased through the use of additional transit measurements taken after September 16th, 2009. This allows for the identification of fifty candidate planets that might be considered prospects for potential "habitability".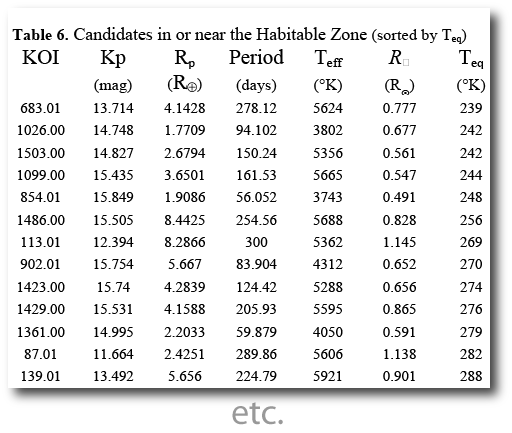 I ran the fifty planets in the table through my valuation formula (see here, and here.)

The total value of the planets in Kepler paper's Table 6 is USD 295,897.65. As with most distributions of wealth, this one is highly inequitable — the most valuable planet candidate in the newly released crop is KOI 326.01, to which the formula assigns a value of USD 223,099.93. Assuming 5g/cc density, this planet has a mass of ~0.6 Earth masses, which is actually a little on the low side as far as the valuation formula is ensured. Nevertheless, USD 223,099.93 is a huge increase in value over Gl 581c, which charts at USD 158.32.
Back in 2009, I wrote that (in my opinion) the appropriate threshold for huge media excitement is USD 1M. With the planets in Table 6 of the paper, we are starting to get very close to that.
Here are the planets in the table with a formula valuation greater than one penny:
(These numbers are associated with a little bit of uncertainty. I'm using Kepler magnitudes rather than V magnitudes, and assuming 5 gm/cc. I'm also assuming that stellar mass goes as stellar radius. Running a cross correlation with the other tables in the paper will change the values slightly, but not substantially.)