The long-awaited initial discoveries from the 600M Kepler mission are in!
At a scientific talk at the AAS Meeting in Washington DC this morning, and in an afternoon press briefing packed with journalists, bright lights and television cameras, the Kepler Team announced the discovery of five new transiting planets. Four are inflated hot Jupiters, and one is a hot Neptune reminiscent of Gliese 436b and HAT-P-11b. Most importantly, the Kepler satellite appears by all accounts to be performing beautifully as it continuously monitors over 150,000 stars for planetary transits.
Here's a to-scale line-up of the Kepler starting five. Kepler-4b is so small that it's just barely resolved at a scale where its orbit spans 480 pixels.

The Kepler planets are primarily orbiting high-metallicity, slightly inflated, slightly evolved stars. These particular parent stars were likely selected for high-priority confirmation observations because their abundant, narrow spectral lines should permit maximally efficient, cost-effective Doppler-velocity follow-up.
Among the planets, Kepler-4b, with its composition that's likely largely water-based, provides further evidence that the majority of short-period planets formed far from their parent stars, beyond the iceline in the protostellar disk, and subsequently migrated inward. Kepler-7b is approximately the density of styrofoam. In a conversation with a reporter, I scrambled for an analogy:
It's like looking at a football team. You might guess from the team photo that they're all 250 to 300 pounds. But then you find out that some of them are 25 pounds; that would come as a surprise…
Everyone is looking forward to the big-picture results that will be coming from Kepler a few years hence, as it probes into the habitable zones of Solar-type stars. In the interim, though, the veritable flood of ultra-high precision photometric data arriving via the the Deep Space Network will keep Doppler velocity follow-up observers working the late-night shifts. The parent stars of the new planets are in the V=12.6 to V=13.9 range, roughly 100 times fainter than the prime transit-bearing stars such as HD 209458 and HD 189733.
According to a S&T editor Bob Naeye, who reported on Bill Borucki's scientific talk this morning, the first 43 days of photometric observations from the satellite generated 175 transit candidates, of which 50 were followed up in detail to extract the 5 announced planets. The Keck I telescope has been the major workhorse for the high-precision RV follow-up efforts that are required to get accurate masses. According to the Keck I Telescope Schedule, 17 nights were allocated to the Kepler team from July through December of last year. Within this time alotment, roughly 50 RV measurements for the 5 new planets were obtained. The velocity precision for Kepler-4b looks to be of order 2-3 m/s, which is excellent. Here are two thumbnails from Borucki's talk (look carefully to read the y-axis scale):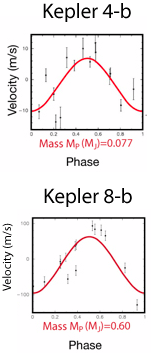 With a slew of nights and good weather during 2010, it should be possible to get a significant number of additional planets confirmed…